5 Kitchen and Bath Decoration Ideas We Love for Autumn
September 8, 2021
by
Your options for fall decor are plentiful. So plentiful, in fact, that it can be overwhelming.
Next month is Kitchen & Bath Month, and we're here to guide you to make the most unique yet essential decoration picks of the patch for two of the most active rooms in the home — the kitchen and bathroom.
More than likely, you're not going all out and painting your entire home orange for the season. However, a first step in switching up your home's look is to add some fall-themed interior finishings.
When we're done, your home will be a cozy oasis for the upcoming season. And then, all that will be left to do is grab your favorite drink, settle into your favorite sofa, put on your best fall sweater and watch the autumn leaves fall.
1. Dark Tones and Decorative Dishes
Searching for an excuse to get new kitchen dishes and containers? We are here to give you one — or maybe a few!
Utilizing dark colors is the perfect way to prepare your space for the autumn season and beyond. These dark autumn colors can give you the fall vibe all year round. Don't overlook the small details, though. Metrie's backsplash options will help make your kitchen door pop while offering a simple, clean look.
Get the vibe of quiet fall mornings (even if your mornings are anything but quiet) when your kitchen provides relaxed, autumnal energy. And for the days that you do get a quiet morning, grab a pumpkin cookie out of your festive cookie jar, make yourself a pumpkin-spiced latte (bonus points if it's in a pumpkin-shaped mug) and watch the fog roll in — all while you enjoy your fall-inspired kitchen decor.
2. Perfect Pumpkin Placements
Incorporating pumpkins into a bathroom's design is one of the best ways to decorate for the autumn season. You can also incorporate orange accent pieces to tie the whole space together for the fall months.
Although this space takes a subtle approach, you can make it spooky for the Halloween season by adding some bat stickers to the wall or some witch-themed hand towels to the vanity.
You can also use Metrie's flat stock to set little pumpkins on or use it for a shelf for all your fall-scented soaps — a great option for smaller bathrooms where space is at a premium.
3. Embrace Wooden Elements
As fall comes back around, we see many designs getting back to natural looks and feels. As the outdoors begins to lose its bright colors and develops more neutral tones, your kitchen designs can follow suit.
Wooden features can be big and bold like wooden ceiling beams or wooden cabinetry in the kitchen. But if those options aren't possible for you, don't worry. Instead, you can add smaller wooden elements. From cutting boards to picture frames to decorative boxes, this design trend can be implemented in all types of ways that are both easy and affordable.
To add another beautiful element to your kitchen, try using Metrie's counter edge moulding. It can cover the exposed edges of your countertop, and it will pull together the design of your kitchen seamlessly. The kitchen is one of the most used rooms in a home — why not make it an autumn paradise?
4. Festive Florals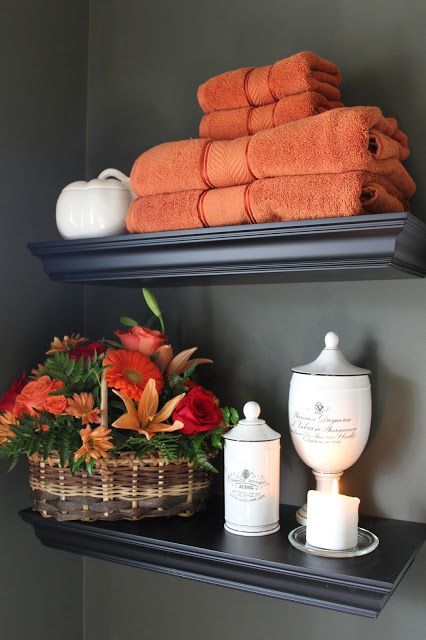 Want to dress up your bathroom for fall without totally redesigning your space? Not a problem.
Adding a fresh, seasonal bouquet to your space is a great way to bring a festive element to the room without having to spend too much money. The rich colors will help set the tone for the colder seasons, and it will be nice to have something to make the space smell as crisp as the outdoors.
Metrie shelving options are great for displaying the floral arrangements, as well as holding other bathroom necessities like towels, wash clothes and (pumpkin-scented) candles.
Because flowers are so interchangeable, this is a great design hack to help transition your space for every season — all while being kind to your wallet.
5. Utilize Rattan Textures
When it comes to the fall season, it's time to bring out all the rattan decor and furniture you have. The natural texture brings an autumn vibe to any space, and the natural color brings the feeling of the cozy outdoors inside.
Adding rattan accents can be as easy as adding some baskets to your kitchen counter or bringing barstools to your kitchen island to make the space functional for your family and other guests.
To spice up the space further, add a touch of shiplap to bring the natural elements together. Metrie's shiplap is great for whole wall designs, backsplashes and ceilings, giving you a variety of options to choose from to make your kitchen space just right.
Don't Fail Your Fall Makeover
There's no reason for you to fail at a fall kitchen or bath makeover with these easy ideas. And the wonderful thing is, you can put a twist on any of them and personalize them how you want.
After all, beauty is in the eye of the beholder!
Are you leaning towards autumn-only decor or want a Halloween spook? Comment below or reach out to us on @officialmetrie to let us know which were your favorite bathroom and kitchen decoration ideas.
Looking for ways to spice up your home for fall? Contact us today for more information and inspiration for your home.